An alliance from the fields of agriculture, human rights, food, climate and environmental protection protested today in front of the Foreign Office in Berlin for the protection of peasants and global food sovereignty.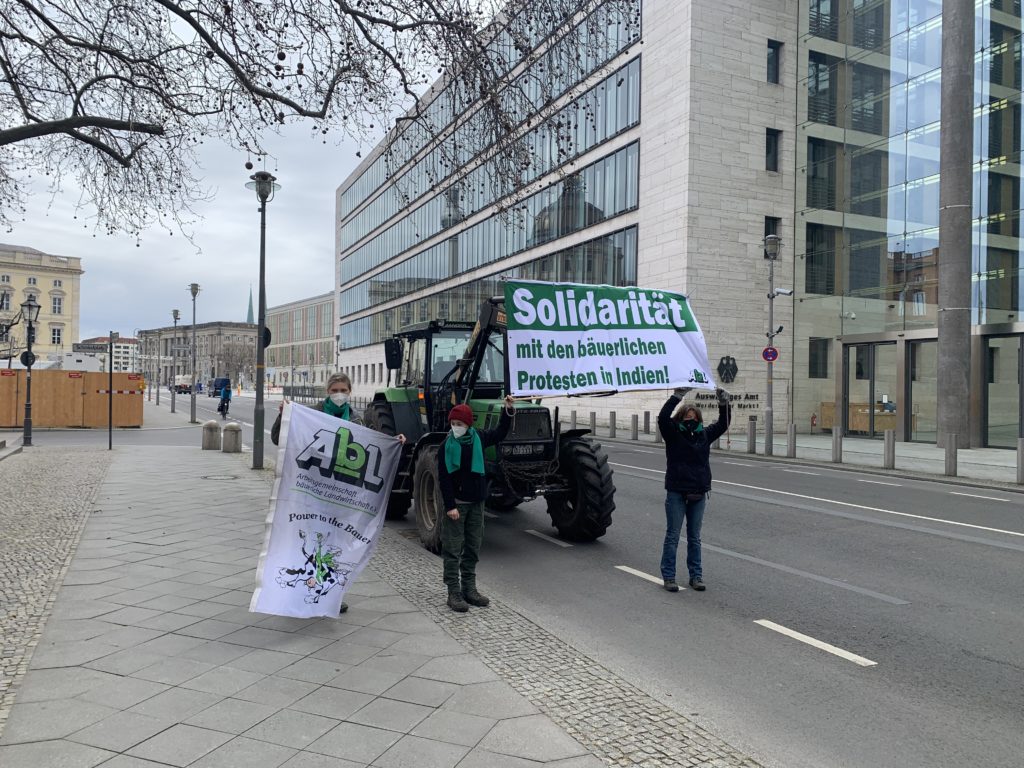 One day before the International Day of Peasant Resistance on 17 April, we showed solidarity with the farmers and farm labourers in India, who have been protesting for over four months against a wave of neoliberal policies.
This is what we said:
We stand with the farmer and farm labourers of India who are protesting the three new laws that have now been passed into acts to be implemented. I would like to firstly bring your attention to the three new laws and what they are doing to the agricultural system in India and then focus on the socio-political aspect within these protests.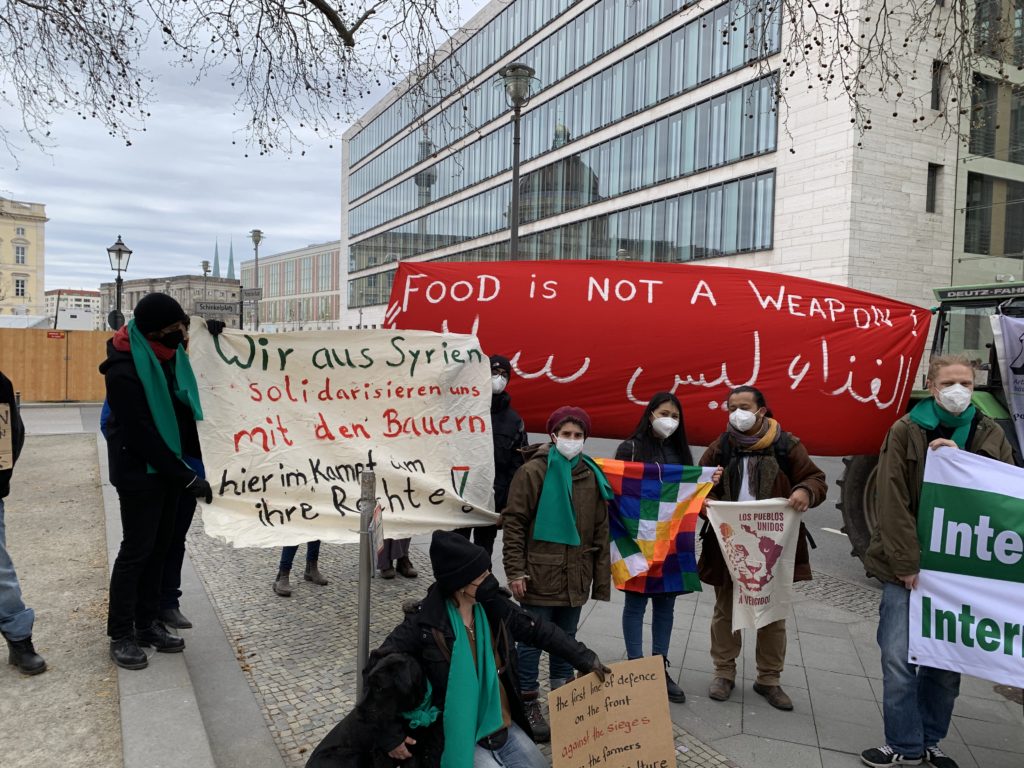 The first law attacks mandis, which are the country's public agricultural markets and a meeting point between farmers and consumers. Mandis assure that farmers are rightfully compensated for their products by ensuring a minimum support price. Previously, the state governments could levy taxes on produce sold outside the mandis. The Farmers' Produce Trade and Commerce (Promotion and Facilitation) Act, 2020 prohibits the levy of such taxes. It further enables private companies to engage with farmers outside the safety of the mandis and does nothing to improve efficiency the current markets. It also opens the door to the eventual removal of the minimum support price which guarantee a proper income for farmers and affordable nutrition for India's poor.
The second law, which is the Essential Commodities (Amendment) Act, 2020, that the Modi government has introduced attacks crops that are vital for food security from the list of essential commodities. In favouring an environment for agri-tech and logistics business to flourish, the government is disabling itself from maintaining stockholding limits to control food price inflation and scarcity. Also, this law, which could be referred to as the Food Hoarding bill, legitimises hoarding as the government gives up its capability of knowing what stocks are existing with who, when and where. This is being done to attract private investment in post-harvest infrastructure. Despite there being a caveat for extraordinary circumstances (war and famine) where regulatory powers would kick in, that this bill makes hoarding possible is preposterous in a country that is already struggling with food security. In spite of food surpluses, India remains one of the world's most food-insecure countries with the highest rates of malnourishment. The withdrawal of the state from purchasing agricultural produce, from maintaining public stocks of food, and from controlling private hoarding, is a retreat from any public attempt to reduce hunger.
The third law which is, The Farmers (Empowerment and Protection) Agreement on Price Assurance and Farm Services Act, 2020, permits agribusiness firms to enter into contracts for the sale of future farming produce at a pre-agreed price. This law deregulates contract farming and leaves the arrangement between sponsors and farmers on voluntary terms.  This will only allow large firms to dictate the livelihoods of farmers. Also, this law is not only counter-intuitive but also non-sensical because it pegs the price to the mandi prices although the first act is meant to make the mandi system collapse. 
By completely ignoring parliamentary procedure, the government passed these bills into laws despite wholesale opposition against them. Instead what the government is offering are local monopsonies and big monopolies by selling its regulatory powers to the same companies. One is reminded of nationalist movements that agreed on the independence of their countries on occupier's terms. This is no different, the colonial relationship is repeated once again except this time it is governments that are selling the interests of its electorate to private firms and businesses in their own country and globally. This is because capital has never had any borders and neither does it have any now.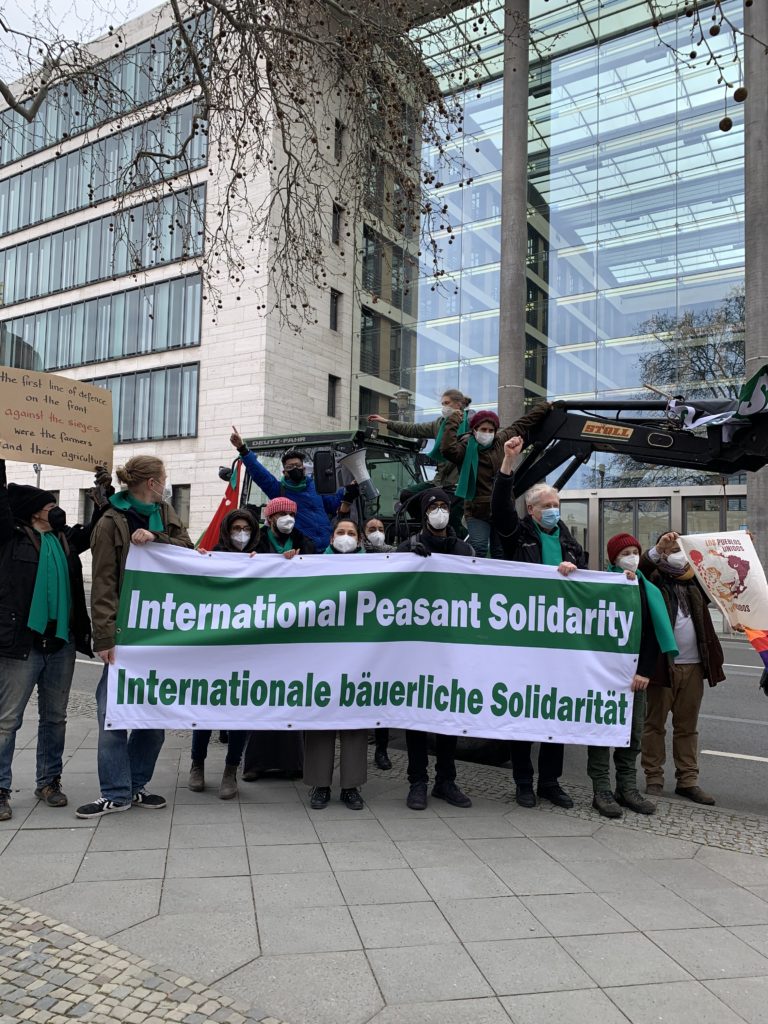 Now, the socio-political context concerns the tribal and Dalit farm labourers who work on agricultural farms of those who own the land and come from upper caste backgrounds. The latest census of 2011 divides farmers into the 2 categories of cultivators and labourers. According to the census 71% of Dalit farmers are labourers and not cultivators as opposed to national average of 47.3% of farmers being landless labourers. It also shows that agriculture labour has been increased by 37 million more people taking up farm labour in the past 10 years. Agrarian crisis is evident when the data shows that while number of farmers have dipped by 3.8% the number of labourers has increased. These landless farmers have no right of their own and majority are from Dalit or tribal backgrounds. Out of 263 million people engaged in agriculture, almost half of them are labourers, a trend that has not been seen in the past 40 years. Around 70% labourers are in debt pushing them to extreme measures like suicide. Last year more than 40k farmers committed suicide and majority of these farmers came from disenfranchised backgrounds and those that will be doubly impacted by the continued implementation of these 3 new acts. Dalit farm activists such as Nodeep Kaur and Shiv Kumar who have stood with farmers in this protest and forwarded the movement have had to face the brunt of police brutality despite bringing to the fore important issues of inequality within the farming community in India and Indian society as a whole. It is critical to note that Dalits and Tribal farm labourers have more at stake than others and will be at the losing end twice over if these neoliberal draconian laws are to stay. 
We stand with all farmers and farm labourers of all communities in India who are fighting against a government that is intent on selling the interests of its electorate to big business. In their fight against the wave of neoliberalisation, we stand firmly with their demands to secure their livelihoods and their dignity. Food as a very basic necessity ought to be privileged over any other need of private gain.