On 9 January 2021, we will be demonstrating in solidarity with the protesting peasants in India.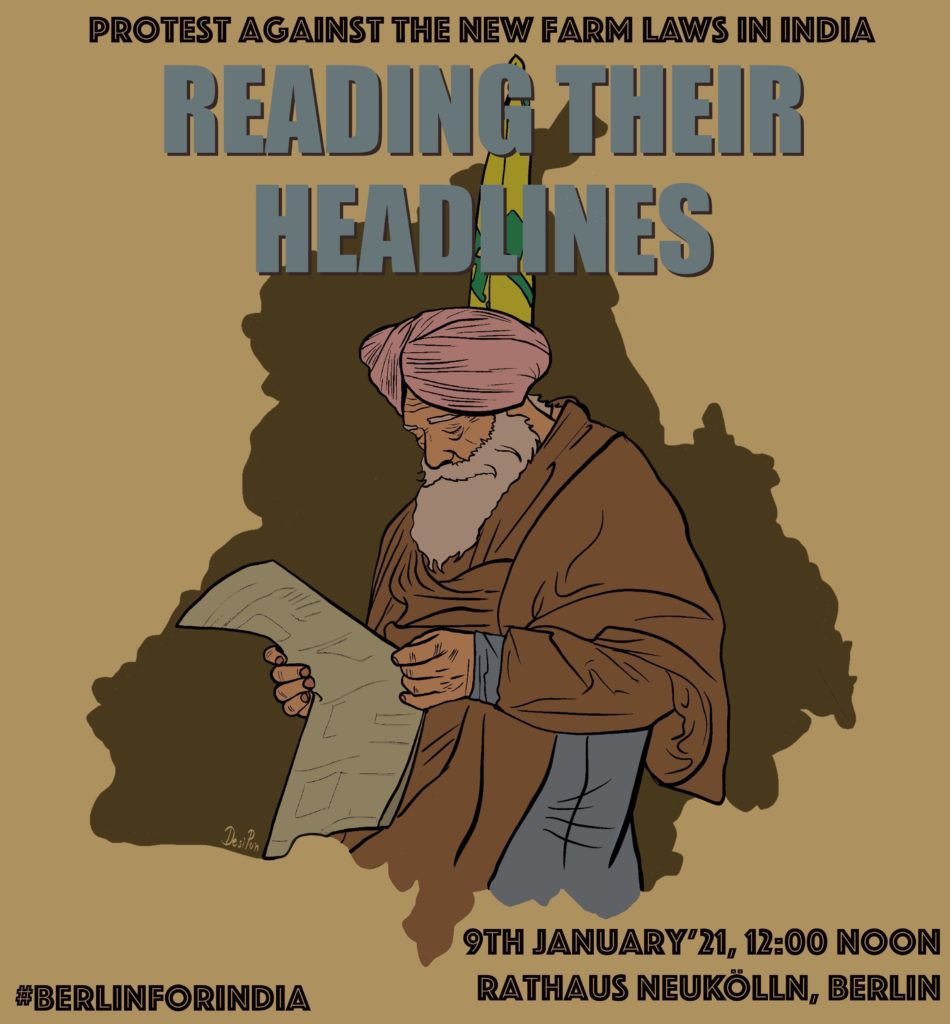 On 26 November 2020, an alliance of ten trade union organisations and over 250 peasant collectives called for a nationwide general strike in India, in which hundreds of thousands of workers, students, unemployed, peasants and farmers participated.
On 8 January 2020, the Common Platform of Central Unions (CTU) had organised a general strike against three new labour laws that, among other things, severely restrict the right to strike. Now, three new agricultural laws aimed at deregulating the agricultural sector are driving farmers onto the streets, with another general strike on 8 December.
At the centre of the recent protests are three new agricultural laws aimed at "reforming" the agricultural sector. Doubling farm incomes was one of the biggest promises of the Narendra Modi government after it took office in 2014, but incomes have rather declined. The new laws – which also break with the principle that laws on agriculture actually lie with state governments – are being sold by the central government as a way to increase incomes. They envisage a greater role for the market and the private sector in agricultural value addition by deregulating contract farming, lifting restrictions on food transport and storage, and allowing trade in agricultural products outside the mandis (the regulated markets for agricultural produce). In almost all states, farmers receive licences and pay commissions to sell their produce on registered mandis.
However, 85 per cent of Indian farmers own less than two hectares of land. Most of them do not have access to mandis. They lack storage capacity and other infrastructure, and are already forced to sell their produce immediately at the prices offered. The vast majority of farmers from India's marginalised communities fall into this category.
(For more info, see here.
We therefore want to express our solidarity with the affected farmers together with comrades from different social movements worldwide.
We thank the following collectives for their support:
– El Bloque Latinoamericano
– La Via Campesina
– Dziewuchy
– Die Linke Internationals
– Farmers Protest DE
– The Independent Farmers' Voice
Against neoliberalism and fascism everywhere!
Feel free to bring comrades, friends and companions. See you next Saturday at 12pm at the Rathaus Neukölln.